Guided by the corporate philosophy of "Impartiality, Fairness and Transparency" that it has followed since its establishment, Japan Bond Trading Co., Ltd., as the leading firm in the inter-dealer market has advanced rapidly in tandem with the development of the secondary markets for pubic and corporate bonds.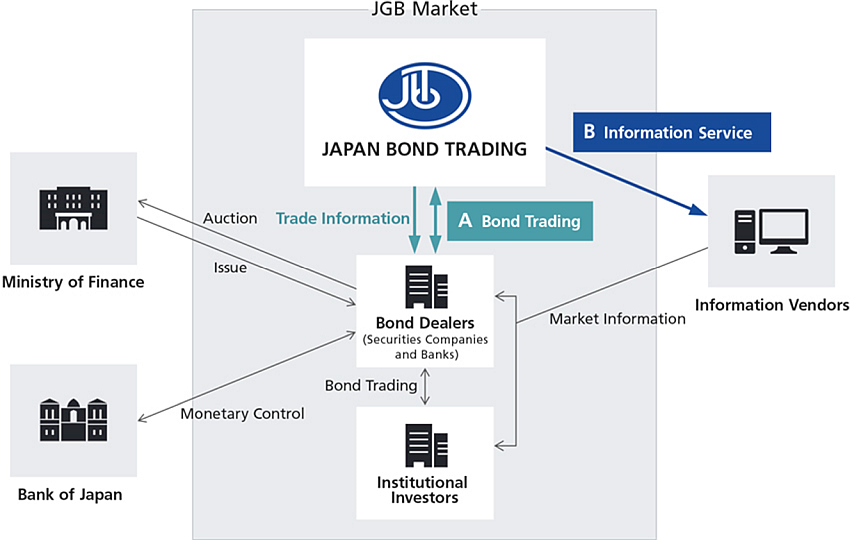 Japan Bond Trading Co. brings buyers and sellers together in the inter-dealer bond market by acting as a principal, which is under the authorization by FSA for PTS(Proprietary Trading System) operations. Anonymity and security of transactions are assured for all participants.
The electronic trading system of the Company, named "BB Super Trade", provides a substantial liquidity pool with outright transactions for all marketable government bonds, switching trades etc., and the Company meets diverse needs of participants.
BTT is the first electronic bond trading platform introduced in 1986. For over 30years, BTT, equipped with functions of execution and distribution of real time market data, has been indispensable tool for financial market of Japan.
Japan Bond Trading Co, also contribute largely to enhancing liquidity of bonds other than JGBs. The Company's experienced traders, who are in charge of making execution of inter-dealer transactions for instruments, such as municipal, government-guaranteed, flip agency bonds, corporate, and interest-bearing bank debentures, along with various information like a credit risk or supply-demand sentiment.
The majority of securities companies, banks, and other financial institutions that compose the inter-dealer market for public and corporate bonds are connected with Japan Bonds Trading Co.'s system center through dedicated lines We make use of our network to provide a diversity of interactive trading tools, and through dedicated terminals and the Internet we communicate actual prices and other information moment by moment to markets both within Japan and overseas.
The actual prices of bonds contracts transacted by the Company are provided through channels such as information vendors and newspapers. This actual price information generated by the Company in markets of such depth is regarded as highly reliable and is used not only by market participants but also in statistics and papers complied and produced by public and academic institutions.
The prices of all marketable Japanese government bonds at 15:00 are computed as BB JGB Closing Prices and released every trading day. This is used extensively throughout the markets, including as reference values for day-to-day bond trading and as data for computing the net asset value of investment trusts. As in the case of actual prices, this price information is released widely, including overseas markets through the information vendors.